what
we do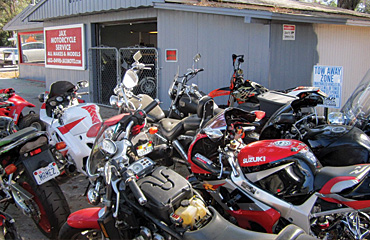 JaxMoto offers motorcycle parts and professional motorcycle repair with the best labor rates in Jacksonville.
Don and Holly Learn started Jaxmoto in 2010 here in the greater Arlington area of Jacksonville Florida. The business model is a parts and repair company centering on the metric motorcycle and ATV products of Honda, Yamaha, Suzuki, Kawasaki.
Our mission here at Jaxmoto is to provide the highest quality service available to our customers by utilizing over 40 years of experience in the motorcycle repair industry. Starting out without much more than a toolbox and a lift, Jaxmoto has grown into one of North Florida's premier motorcycle repair centers. Over the years, Jaxmoto has been successful enough to purchase and house one of the largest repair parts inventory in town. We have also been lucky enough to acquire some of the greatest technically minded people in the industry. These are some of the things that contribute to our abilities in the repair of older and more classic metric motorcycles along with current models.
Along with being professionals, we also consider ourselves enthusiasts in just about every aspect of the business. We respect and enjoy our customers and even though we've had our share of set backs, we believe in doing whatever it takes to keep our customers safe and successful in their motorcycling endeavors. Today's business environment doesn't suffer fools. This unfortunately has caused many a shop here in town to vanish before our very eyes.
JaxMoto prides itself in withstanding the test of time and we like to think through careful planning and slow controlled growth, we will continue to provide an increasingly better service for our customers. Our industry and our entire society are constantly changing these days. With the continued loyalty of our customers, JaxMoto will also support changing needs. The honesty, respect, and dignity that play a part in everything we do will never change. This we can promise to our customers and our community.

Free Pickup anywhere in Jacksonville
904-683-0498
JaxMoto
Team
Don is the owner of Jax Motorcycle Service, has been in the motorcycle service and repair business over 25 years. Originally from New Jersey, Don started in a Yamaha / Suzuki dealership in 1986 while still in high school. After years working in the motorcycle shop, Don opened his first motorcycle repair shop in Chadds Ford, PA called Cycle Adventure. Continue…

Read more

Holly is originally from Columbus, Ohio and has lived in Jacksonville for the past thirty years. She earned her BBA in Marketing from the University of North Florida. Holly currently works at the Yulee Post Office and she is at the shop frequently answering phones and fielding customers questions. Although she does not race, she does attend the FTR races Continue…

Read more